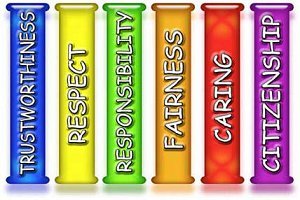 FAIRNESS = DECEMBER'S AND JANUARY'S CHARACTER
Definition: Honor the worth and dignity of all individuals. Treat others the way you would want to be treated. Act courteously, civilly, peaceably, and nonviolently. Be tolerant and accepting of differences. Avoid rude, offensive, and abusive words and actions!!
Trustworthiness: Blue
Think "true blue"
Respect: Yellow/gold
Think The Golden Rule
Responsibility: Green
Think being responsible for a garden or finances; or as in being solid and reliable like an oak
Fairness: Orange
Think of dividing an orange into equal sections to share fairly with friends
Caring: Red
Think of a heart
Citizenship: Purple
Think regal purple as representing the state
Students can use this acronym to help them remember that people with good character are terrific:
Trustworthiness
Respect
Responsibility
Fairness
Caring
Citizenship