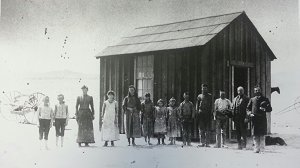 The Kettleman Hills were named after Dave Kettelman, a pioneer sheep and cattleman who grazed his animals there in the 1860s. Kettleman Hills long ago in the early 1900s was a crossing for people who would travel from Lemoore to Kettleman City by ferry. As the Tulare Lake receded in the late 1920s, this stretch between the two cities later became State Route 41.
Oil was discovered in the Kettleman Hills in 1928, at the Kettleman North Dome Oil Field, which became one of the most productive oil fields in the United States in the early 1930s. Reportedly, thousands of spectators came to see the gusher that spouted almost pure gasoline for weeks.
A. Manford Brown, a real estate developer, founded the town of Kettleman City in 1929. He donated land for a school and for the community church. The main street (State Route 41) was called Brown Street after him. A branch library was established in 1930. By 1940, Kettleman City had a population of about 600.
The early 1970s saw two substantial projects that had significant impacts on the community: the completion of the California Aqueduct and the opening of Interstate 5. The facility operated by Waste Management, Inc. opened in the late 1970s.